I was looking for an enjoyable tag that wasn't related to anything in particular, and stumbled across this little gem over at the blog: Emma @ Life of Gibbers. It's a nice little introduction to random things about you, that are nicely personal without being intrusive, and give a wide idea of what I'm like and who I am than a usual bookish tag. Let's get rollin'.
1. What is your middle name?
My middle name is a cheeky palindrome: Hannah
2. What was your favourite subject at school?
I really enjoyed both science and geography, which is probably why my degree is a BSc in Geography really.
3. What is your favourite drink?
I do love a good coffee, but I am also partial to a good glass of cold lemonade. And not sprite or some other rubbish version, proper, cloudy lemonade.
4. What is your favourite song at the moment?
Probably The Man by The Killers. We're going to see them next month and I am super excited.
5. What is your favourite food?
I absolutely love a good pizza, so it's either that or chocolate. Or apple crumble and custard.
6. What is the last thing you bought?
Aside from my weekly food shop, I bought a vest, a jumper, a baking tray, and some toys for an Operation Child shoebox from Matalan.
7. Favourite book of all time?
I find this question very difficult BUT I would probably have to say To Kill a Mockingbird by Harper Lee has been the book I have said is my favourite for about 12 years. I love J K Rowling's Harry Potter, and Fahrenheit 451 by Ray Bradbury.
8. Favourite Colour?
Red.
9. Do you have any pets?
Not at the moment, but I have had guinea pigs called Tufty and Scott, and fish called Harper and Lee.
10. Favourite Perfume?
Oooo, I have 3 favourites: Armani Code, Coco Chanel, and Dior Pure Poison.
11. Favourite Holiday?
Is this holiday as in time away, or holiday as in Easter/Halloween? I'll dual answer to cover:
Christmas. I bloody love Christmas. I love the presents, the music, the weather, the decorations, the food, and literally everything about it.
I mean, it is technically the year I went travelling, because that was akin to a year long holiday and I went to so many brilliant places and made some incredible memories.
12. Are you married?
Nope.
13. Have you ever been out of the country?
Yep, I've been to quite a few countries now: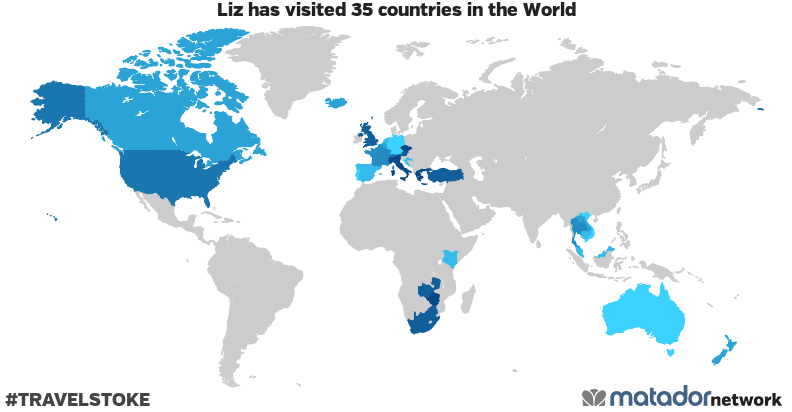 Liz has been to: Antigua and Barbuda, Austria, Australia, Barbados, Belgium, Canada, Switzerland, Czech Republic, Germany, Dominica, Spain, France, United Kingdom, Greece, Croatia, Iceland, Italy, Kenya, Cambodia, Saint Kitts and Nevis, Laos, Malaysia, Netherlands, New Zealand, Portugal, Singapore, Sint Maarten, Thailand, Turkey, United States, Vatican, Vietnam, South Africa, Zambia, Zimbabwe.
14. Do you speak any other language?
I speak the world's smallest amounts of Spanish and Thai. As in next to none. But I like to try when I go abroad.
15. How many siblings do you have?
I have two younger brothers. Twin brothers in fact: James and Jonathan.
16. What is your favourite shop?
I don't know if I have one. Online it's Amazon, I like New Look and Marks and Spencer for clothes. The book that gives me great joy when I go in though is undoubtedly Waterstones.
17. Favourite restaurant?
Either The Tavern in Liverpool for breakfast, or Amalia in Liverpool for Calzone.
18. When was the last time you cried?
I'm not much of a crier really, so I don't properly remember.
19. Favourite Blog?
There's lots of great blogs that I like, but he's a couple:
The Terror of Knowing
Ever the Crafter
Bout of Books
The Broke and Bookish
20. Favourite Movie?
Easy Peasy Lemon Squeezy. Pirates of the Caribbean: The Curse of the Black Pearl.
21. Favourite TV show?
White Collar, and Spooks, and The O.C. I love all of these and will recommend them to the end of the earth. Oh, and Planet Earth series 1 and 2.
22. PC or Mac?
I don't really like Apple, so I am never going to say Mac. Therefore, PC.
23. What phone do you have?
I have a black Samsung Galaxy S8.
24. How tall are you?
This should really say how short are you: 5ft 4.
25. Can you cook?
I think I can yep. I certainly enjoy cooking, and my friend eats it, so yeah, I can.
---
I hereby tag everyone who reads this. Please feel free to tag yourself, but please make sure you give all the credit to the lovely Emma, and please link me so I can read all about you!